Welcome back to my series on strength training and endurance sports. My last article looked at strength work and cycling economy- which was way back in June. I have a good excuse though: the birth of my daughter, Adeline Delanghe!
I would like to say "now that her sleep is normalizing blah blah," but that simply is not the case. Instead, I'm just getting better at squeezing stuff in, which hopefully will result in more science of training articles for you all!
In any case, if you haven't already, please review the first three articles in this series. The idea is not to give you a cookie-cutter, magical answer on how endurance athletes should utilize strength training. Instead, this is meant to introduce you to some of the nuances in the science, and how to decide if, when, and how much resistance training you should do.
Strength training 101: Impact on V02Max
Strength training 102: Impact on Running economy
Strength training 103: The impact of cycling economy
To add to the above, today's article will take a look at another parameter of endurance performance- lactate threshold.
Strength Training and your Lactate Threshold (LT)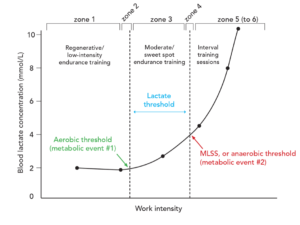 What is your LT? This is essentially the exercise intensity at which lactate accumulates in the blood faster than it can be removed. This is the "breaking point" so to speak between low and high-intensity work.
While V02max is important, having a high lactate threshold is crucial in endurance performance. The higher the lactate threshold is as a % of your V02max, the harder the effort you will be able to sustain for long periods of time. We don't race at our V02max, but we do spend lots of time in and around our lactate threshold!
While V02max is a popular thing to measure and be proud of, as we have noted before, somebody with the highest V02max doesn't always win the race, especially in running. As we discussed, this is in large part due to exercise economy. However, this is also seen when somebody has more effectively trained their lactate threshold despite not having the same max oxygen-consuming ability. In other words, having a slightly lower V02max that's good enough, and a very highly trained LT can allow you to beat a competitor with a higher V02max.
V02max is the ceiling, and we want to max it out, and then get our LT as close to it as possible to be at our best!